On September 11, 2001, the United States experienced a terrorist attack. The attacks were executed by an extremist group Al-Qaeda and targeted the world trade center in New York City and the pentagon in Washington D.C. This event had a huge impact on the world, leading to increased security measures at airports to help protect flights, and changes in foreign policy. It serves as a reminder of the importance of unity, resilience, and the need to stand against terrorism.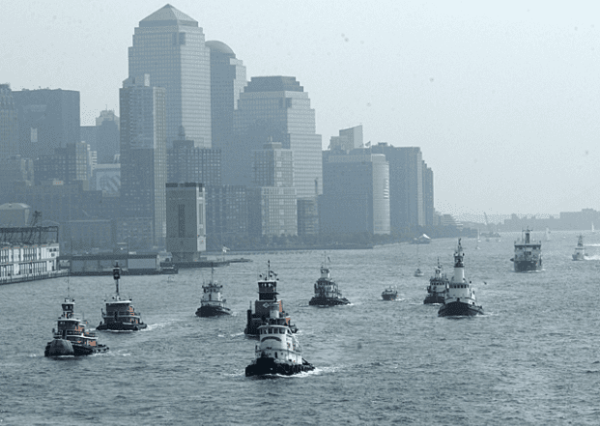 Boats played a crucial role in the evacuation of 9/11. As lower Manhattan was off from the rest of the city, many people were trapped, and other transportation methods were unavailable due to road closure and flights being canceled after the first plane hit the north tower. Ferries, private boats, and even NYPD and Coast Guard vessels were used to rescue and transport thousands of people to safety across the Hudson River. It was an incredible display of the city's resourcefulness during the crisis. Around 500,000 people were rescued by boat in a span of 9 hours of the event which is the most people evacuated by boat in history within an extremely short amount of time.
In Colorado Red Rocks host a stair case climb to reflect and remember, while at the same time getting an intense working climbing the stairs at red rocks. The mood is made to be positive while they honor the sacrifices and the events of 9/11 and to represent all of the firefighters that risk their lives still today.
The Remembrance of 9/11 is important because it helps us honor and pay tribute to the thousands of lives lost in the tragic events of that day. It allows us to come together as a nation to commemorate the bravery of the first responders and the resilience of the American people. Remembering 9/11 also serves as a reminder of the importance of unity, compassion, and vigilance in the face of adversity.
If you missed the stair climb this year this year don't worry! It will be hosted again next year! If you are interested click the following link for information! https://911stairclimb.com/

Header image as seen from Jersey City, N.J. Photo: Gary Hershorn/Getty Images