CSH Girls Wrestling Team Wins State!
CHATFIELD WRESTLERS ARE STATE CHAMPIONS for the FIFTH YEAR IN A ROW!!
What were you doing last weekend? Well our girl wrestlers were battling it out at Ball Arena and are now FIVE TIME STATE CHAMPS!!
Chatfield's GIRLS Wrestling team sent 9 wrestlers to state competition.
It was an amazing Saturday night at the final matches and our Chargers came out on top! Janessa George, Taylor Miess, and Ryen Hickey are 2023 State Champions! Their wins, along with the points earned by their team members, made it possible for yet another team State Champion title! Our Chatfield Wrestling program continues to be the ONLY Colorado State Girls Wrestling Champions EVER!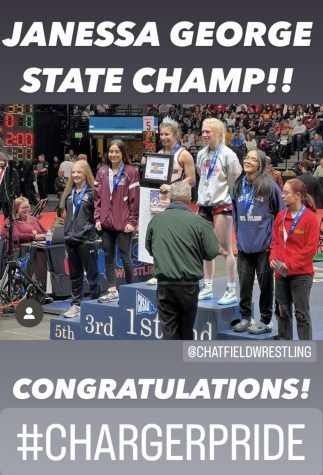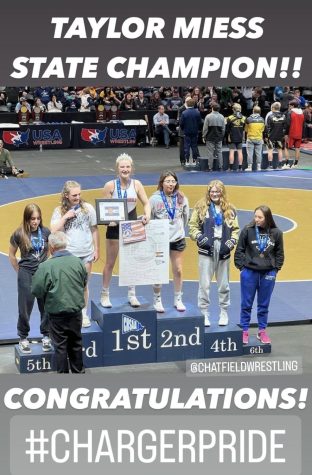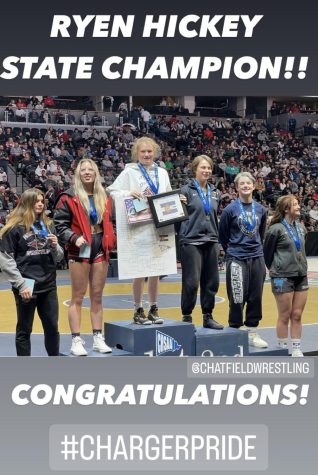 Senior Janessa George earned the title of 5A Colorado Wrestler of the Year right alongside of her mom, Coach Sandra George, who was chosen as the 5A Colorado Wrestling Coach of the Year! Wrestling runs deep in the George family DNA! We are so blessed to have both of them in our Charger Family!
Coach George's Comments:

1. What does this team mean to you?

This team is so special to me because they have the best relationship with each other. They push each other and learn from each other. Even if we win as a team, sometimes we will lose a match and the girls are there to pick each other up and get them ready for their next match.

2. What is your favorite memory from this season?

My favorite memory of course is when the Chsaa trophy was given to Chatfield for the 5th year in a row along with hugging my State Champions after they won their match. Another unforgettable moment is when my girls placed at regionals and qualified for the State Championship.
1. How many state titles do you hold?

I have one state title.

2. What was different this season than other seasons?

I think this season felt more important to me because it was my senior year and last chance to win the state title. It was my last year to show my improvement and take my stand at the top of the podium.

3. What makes you so successful?

I think what makes me so successful is all the work and nonstop training I put into the high school room and into the club. After every tournament we figure out what we need to work on and what weaknesses we have and perfect those the next day in practice.

4. What did Saturday night feel like?

Winning that title felt like a dream I am still trying to process. It felt like all the work I finally put in paid off after years of falling short of first place.

5. What will you miss about CSH wrestling?

What I will miss will be all our home duals and travel tournaments. They always brought us together and created a closer bond than what we had before. The home duals felt great  to have an audience to cheer us on as we beat all the teams in our house and cheer each other on.

6. Where will you wrestle next season?

I am still undecided at the moment. I am deciding between two schools right now.
You can watch a video of the 3 matches that earned our athletes the individual titles of State Champions. We are so proud of all the hard work, dedication, training, and positive attitudes that went into making this a reality for these deserving, young ladies. This was a phenomenal ending to the season! GO CHARGERS!