Guess Who's Back?! — Just When It Seemed Like She Forgot About Chatfield
I'm 95% sure that you weren't expecting to hear from me again. To be honest, I wasn't expecting to have anything to do with high school after I graduated last year, but after some time, I've decided to make a slight cameo on Chatty Matters with what my life has been like ever since I got my diploma.
Some things are the same. I still watch movies back-to-back until 2 AM and looking into mildly interesting, obscure topics, like the symbolism of bubbles in literature and art.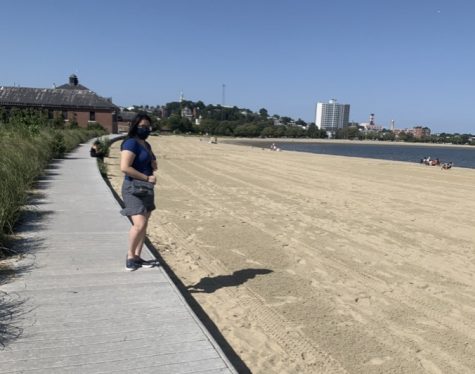 But of course, a lot has changed. I'm in university now, obviously. I've also moved away from Colorado to live in Massachusetts, in an apartment pretty close to my campus. I don't run outside as much as I've used to, but as result, I've met new people in and outside my major online and have learned so much more about myself, both as a student and as a person working towards their future. Despite that virus thing going around, I've somehow managed to lead a relatively fun social life while still keeping up with virtual classes.
In high school, I was fortunate enough to have the resources I did to help prepare for what college was going to expect from me. My English and history teachers are big reasons for why I don't need to take anymore art and humanities classes, and helped make critical thinking as easy as breathing. My math teachers helped set me up for some detail-oriented professors when it comes to showing my work, and even my science teachers helped me at least grasp the basics of what I needed to know for classes in my major, computer science. Even people like my gym teachers helped me be conscious about my health in a time where it's not as easy as it could've been, and even my Spanish teachers has helped me become a little more closer with the hispanohablantes of my school community. I'm grateful for all the help I was able to get when it came to moving on and starting a new part of my life here at my university.
Now in college, as expected, there was also a lot that I had to learn my own. Things like the investment rule, where 1 credit is equal to about 3 hours of dedicated work a week; or the student group in my area that resells old textbooks for my university. Branching outside and really putting in the effort to be friends with other people in my major definitely helped me learn the ins-and-outs of what goes on in my school, and it just really helped me feel more like a part of the community. I'm pretty sure it's the pandemic speaking here, but making friends in university is still hard, especially if it's your first year, but it really is worth the effort. Becoming comfortable with what you're uncomfortable with is really the goal here.
I think the biggest thing I've had to come to term with was my limit when it comes to what I'm able to handle in my classes. I figured 7 classes in university would be fine, since that was basically what I was doing for most of high school, but that's really not the case. That investment rule I mentioned earlier really applies – even just having 1 four-credit class is equal to about 12 hours of work a week. Accepting that maybe it's a better idea to take 15 credits instead of 17 really helps make a difference in your work flow, and just knowing that it's ok is comforting. There's always going to be those people that can take 18 or 20 credits and still do well, but it's important to know where you stand on that scale individually. And even if you know your limits, and you still earn a 3.0 in your first semester, it's okay. Getting better and improving how you work and learn is all part of the experience. The first semester is really a hit in the face, but it's also where the most of the growth happens. In short, believe in yourself.
I still can't speak too much about the college experience, since I'm still fresh out of high school. For anyone else that has plans for college after they graduate, I hope that maybe my insight helped create a better understanding of what to really expect – even if all this talk isn't
really the same as actually attending university. I can't guarantee the next time you'll ever hear from me again, but stay safe and have fun with what you have left of high school.