Amanda Gorman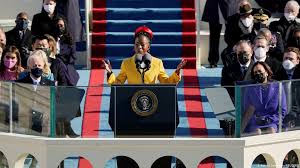 Amanda Gorman is a 22 year old poet and activist who focuses on feminism, oppression, and race.  Gorman has accomplished a lot in her 22 years of life including reading one of her poems, "The Hill We Climb" at Joe Biden's presidential inauguration and being the first person to be named National Youth Poet Laureate. She is still so young and has accomplished so much already.  
Gorman grew up in Los Angeles with her mother and twin sister Gabrielle who is also an activist. Her childhood consisted of her reading and writing a lot. Her mother always encouraged her to write because she had a speech impediment and it was a great way for her to express herself without struggling to talk. She wasn't able to pronounce her Rs correctly but Gorman never really thought of her impediment as a crutch, she always looked at it as a gift because she had the opportunity to learn how to read and write better. She says one of her favorite things to practice was the song Aaron Burr because it was "jam-packed with Rs".  
She has always been a motivated and positive girl. She always tries to help people and spread messages and a great way she does that is through her poems. Being a person of color has made it hard for her to live her life normally but she has found that writing poetry helps her express her frustration about how unfairly she is treated. The emotion she puts in her poetry has helped her reach the point where she was able to read at Joe Biden's inauguration that led to her receiving a gift from Oprah Winfrey. Winfrey gave her a pair of earrings and a ring in the shape of a caged bird that was inspired by a previous black inauguration poet, Mia Angelou's book "I Know Why the Caged Bird Sings." Gorman has come a long way with her poetry, but she still has a long way to go.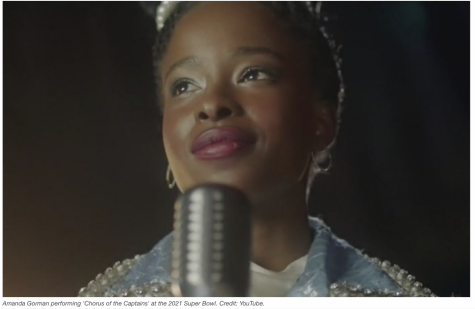 Amanda Gorman isn't just a poet, though, she is also a bestselling author and just signed a modeling contract with IMG Models. Gorman has written 3 books so far which are coming out later this year, "Change Sings, A Children's Anthem", "The Hill We Climb: A Collection of New Poems", and "A Hill We Climb" just the poem on its own. The 3 books are yet to come out and they are already bestsellers on Amazon. She also got the opportunity to perform one of her poems at the 2021 Super Bowl. She read her poem "Chorus of the Captains" which talked about 3 people who are helping others despite losing loved ones to Covid.  incredible how someone so young can accomplish so much.
Amanda Gorman is only 22 years old and has won an award for her poetry, read her poetry at the 2021 inauguration, has had 3 of her books become best sellers, receive gifts from Oprah Winfrey, and sign a modeling contract. She really is an incredible woman and she inspires so many people.