World Teen Mental Health Day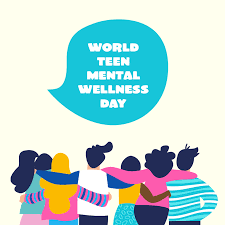 Today, March 2nd, is Teen Mental Health Day. This day raises awareness for all the teens struggling with mental health problems that may seem to be too much for them to handle. According to Psychological Association, Generation Z (or Gen Z) struggles with mental health issues more than any other generation to date. Using the hashtag, "#WorldTeenMentalWellnessDay" people are shedding light on the issues and impacts that mental health has on teens. In 2020 Hollister founded World Teen Mental Health Day. Hollister founded this day as an opportunity for teens worldwide to practice self-care and focus their kindness from others to themselves. While this might seem like a "self-centered" mindset for a company to promote, people with mental health issues need to practice this skill and learn that it is good to treat yourself and take care of yourself every so often. It is imperative for teens to make themselves better and have time to relax and unwind during times like now. While this national day was only founded last year, it must not be overlooked.
HAPPY WORLD TEEN MENTAL HEALTH DAY!!!
sources:
Information: https://nationaldaycalendar.com/world-teen-mental-wellness-day-march-2/
Picture: https://www.google.com/url?sa=i&url=https%3A%2F%2Fwww.facebook.com%2FNYSOMH%2Fphotos%2Fa.292984664143486%2F2550135491761714%2F%3Ftype%3D3&psig=AOvVaw0qSueuKxQO-zKvfjMmSIdm&ust=1614806319402000&source=images&cd=vfe&ved=0CAIQjRxqFwoTCLj1tbrEku8CFQAAAAAdAAAAABAD