Introducing Our New Principal, Mr. Thanos!
At last, after a long search to find Chatfield's new principal, it is without further ado to announce Mr. Thanos as our new principal! I had the pleasure to sit down with Mr. Thanos and ask him some questions regarding his current beliefs and future plans for Chatfield, along with how he is feeling right now! 
What is your vision going forward?
"I'm super excited to have the opportunity to be the principal. I think Chatfield is an incredible school. My vision for students is that every student that comes here will have an idea of what they're going to do the day after graduation, that they'll have the tools to be successful. And that while you guys are here, you will feel Charger Pride, and you'll build fond memories. I'm constantly thinking about making sure that we have the classes and the connections that you guys need to be exposed to a variety of different things while you're here, so you know what you want to go into after high school. I want to balance that and make sure you have fun and you enjoy your time at Chatfield and that you love being a Charger just as much as I do."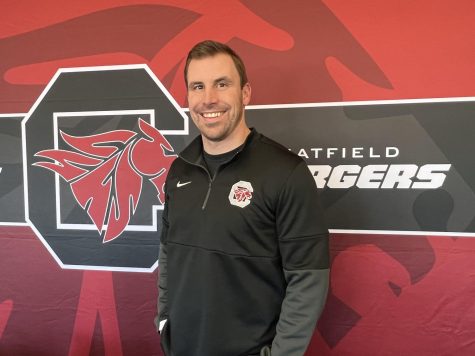 What makes you most excited about being the new principal?
"At Chatfield I think we have incredible kids. I think we have a lot of potential here to continue to build our community closer together and create more options and opportunities for you guys and build those fond memories while you're here. I think we have an incredible staff and amazing students. I look forward to getting to know more students and engaging with the student body as much as possible. That's been a big goal of mine. And, just to continue to build out those different pathways for you to be exposed to things and for you guys to be a part of something while you're at Chatfield. I hope I can make students proud that I'm their principal because I'm super proud that I can be the principal here and serve you guys."
What do you think your biggest challenge will be?
"We still have to fill out our admin team, the leadership team. My head space right now is that we're going to hire an ongoing athletic director and we're going to hire another assistant principal to fulfill my role. We'll see if that results in us having to hire a new dean. We still have to fill out the team; it takes a whole leadership team of assistant principals and a principal to be able to make sure the teachers have everything they need and then make sure you guys have everything you need. That's the biggest challenge I face right now is making sure we get good people who are going to love the students and be involved with you guys in those positions so that we have a lot of people to execute the vision and execute the plan."
Where have you taught or been affiliated before?
"I originally started my career teaching at a school that was very similar to Chatfield in Northwest Indiana, outside of Chicago. I taught high school English there and I coached varsity football, varsity baseball, and I did the yearbook there. It was almost identical, a carbon-copy of Chatfield, about 1800 students, 5A sports. I decided to move out to Colorado. Teaching in the same high school you graduated from is great, but I wanted to have an experience that was somewhere outside of that. So, I moved out to Colorado and taught middle school for a couple years and then was an assistant principal at Westminster High School in the metro area. Now, I've been at Chatfield for the last three years."
What are your thoughts on Chatfield already?
"So, we can't take for granted the fact that we have incredible students, I mean that. Our student body is made up of kind people who are mature beyond their years. They genuinely care about Chatfield and they're nice to each other and nice as a whole group. I think what we have to do is continue to not take that for granted and recognize that we're truly training because of the type of people you are. The leaders, our leaders for society, our leaders for our community, are in this building right now and where we're headed in the future. So we have to continue to push you guys, give you guys the tools you need to be successful, while continuing to mold the young people you are. But I think we're very fortunate to have the student body we have. Many of our staff members have been committed to Chatfield for a long time and will likely finish their careers here. It's not a place where people typically leave and so they're really invested in this place as well and really care about it. I could not be more fortunate to be in a situation where we have a student body that I respect and love working with, and have a staff that I respect and love working with to carry out the work. My job is to serve and support you guys to make sure you have everything you need."
We're so excited to have Mr. Thanos as our new principal and we can't wait to see the success that he will bring to Chatfield!