"What are Your Plans for College?" Question Answered.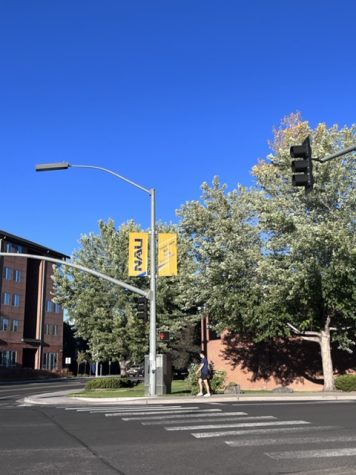 All summer long I was asked by concerned grandparents and curious aunts and uncles the question "What colleges are you looking at?". Most of the time I would become flustered and even slightly overwhelmed at the thought of having to really consider my future. There are so many options, all very unique, and most would likely create really great college experiences. My real answer would go something like "Oh, I have always wanted to go to Gonzaga in Spokane, but I'm not sure how if my grades will get me there" so then I go on to list other potential options, "So maybe NAU in Flagstaff or Montana State in Boseman." And that would practically end the conversation. This past weekend I was able to go and visit NAU, an option that until now, I had considered a top contender despite the fact that I had never seen it in person.
What do kids really look for when visiting potential colleges? What really sticks out to our generation and age? As much as that depends on the individual, I think that there are a couple of universal ideas that high schoolers can identify with.
1) Campus. How big is the school? What do the classrooms and athletic centers look like? What about the dorms and cafeteria? Is it an aesthetic that you could picture myself being immersed in for 4 years?

2) Student Life and Population. How many kids go to school? What are some of the popular sports and activities? Are the kids majorly one type of culture, or actively involved in a specific religion? As the main concern of going to college is meeting new friends and fitting into a foreign place, could you picture yourself fitting into the population and interests of the school?

3) Architecture. As stupid as this may sound if the architecture of a college doesn't fit your taste then the atmosphere might turn out to be tiring and unmotivational. Feeling a connection can be influenced by the architecture and design of a school. 
My college visit turned out really well. My first impression of the campus was how much it reminded me of Aspen, Colorado in the summers. The students were all good-natured and the architecture was relatively new, but also varied, with numerous glass structures. The campus was big enough to walk and ride bikes around it. The sports don't overwhelm the school's value, but are an exciting and drawing event that the majority of the students come together for. These are all values that I look for in a school. All in all, I am definitely adding NAU to my "seriously considering" list. Really experiencing the individual colleges is vital because you want to be able to thoroughly enjoy your college experience, and the visits give you a pretty good insight into what college life may look like on different campuses.
Be sure to check out https://www.concordiacollege.edu/stories/details/top-10-factors-for-choosing-a-college/ for more insight into what to look for on college visits.