Chatfield Varsity Poms' Roller Coaster Season
As the school year begins to enter the spring season, the Chatfield varsity poms team is headed to nationals! With all of the spirit and Charger pride they bring into our school it is time to recognize all of their amazing accomplishments this year! These girls work day to day, and have multiple hour long practices every week to make sure they are looking their very best; and it has paid off!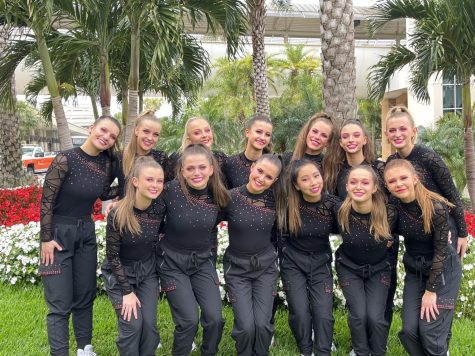 They started this season strongly with their League competition here at our school! The student section really showed up to support them and it paid off because they came in second, only missing first by a few points! Even after that amazing moment they still strive for more! They continued working hard, and placing well at other competitions like NDA and UDA while still maintaining new and fun dances to perform for our school at events like basketball and football.
Now these girls are taking on nationals. This strong team of 13, with three incredible coaches have been working on perfecting their Hip-Hop and Pom routines to be ready for that nationals stage. Now the time is here and we are already so immensely proud. The week leading up nationals hasn't been easy due to not only mental but also physical struggles. These athletes had to maintain many changes that needed to be made just one practice before they took off for Florida. However this strong team didn't give up and they pushed through these struggles to prove themselves on the national's floor. 
After taking the stage on day one to compete Hip-Hop, the whole team felt amazing! They hit all their tricks and couldn't be more proud of their performance and overall energy they felt on stage as a team! The team then quickly went back to practicing, to get ready to perform pom. With pom on their minds, all the girls took the stage feeling not only calm, but confident. They took the stage, and danced as a family, and they had another amazing performance. Their unity and connection with each other through the dance was the best it has been all season, and it really showed in their overall performance! Even though these girls aren't returning home with a national champion title, the bonds they made and the memories that were shared is better than anything they could have asked for. They performed to prove their love for dance, and unite with those on the floor and those in the audience, and that is exactly what they did. There is no trophy that can account for how special that moment with that team is and at the end of the day that is what matters the most.
This team is such an amazing group of women who we know will continue to do amazing things. The two seniors on the team, Megan Obrien and Lilly Lenzen, have made such an important footprint on this team and we know that they will forever be apart of the Charger Poms family as they begin to head into their next chapter. Poms, continue striving for excellence and know that your hard work and dedication doesn't go unnoticed. "At the end of the day we all danced found" -Lilly Lenzen.