CSH German Students DOMINATE the AATG National Exam!!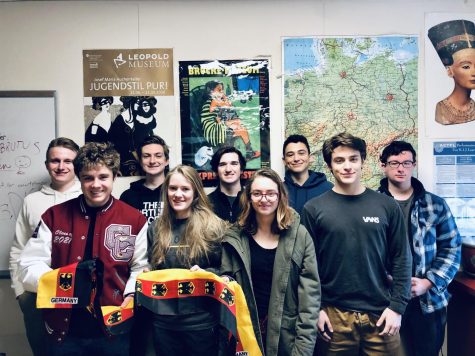 At the end of January, students at Chatfield underwent the arduous process of the American Association of Teachers of German (AATG) National Exams. Classes ranging from German II to German V took the exam, and some very high results were achieved. So of course, some credit is due.
Chatfield is a rigorous school when it comes to German. It placed third in all of the schools in the CO/WY region, after all. The school is also recognized by the U.S. Department of State as a school of distinction for the German program. Furthermore, Chatfield is part of the German-American Partnership Program (GAPP).
With all of these expectations, students had quite a bit to bear. Still, Chatfielders took quite a few medals home. The total tally was 14 Gold, 5 Silver, and 11 Bronze. 
With the statistics said, here are the winners:
Gold Medal Winners: 
Third Year: Miles Nash, Emily Flanders, Desmond Decker, Kyle Fagan, & Xavier O'Keefe.
Second Year: Andrew Shearer, Tomas Asiala, Jeremy Felker, Dylan Grace-Mitchell, Sierra Harmon, Daniel Hill, Rachael Lott, & Hanna Rognerud.
Silver Medal Winners: 
Second Year: Thomas Ingram, Ashtyn Alabbasi, Adam Brandland, Stuart Buecher, & Tori Rognerud.
Bronze Medal Winners: 
Fourth Year: Jack Phillips & Sarah Beelaert.
Third Year: Kiara Keller, Thomas Donovan, Matthew Ashworth, & Jake Brautigam.
Second Year: Kristen Wright, Robert Erickson, Brock Larson,  Rebecca "Alex" Heatwole, & Myers Hoffman.
If the incentive of a medal and certificate aren't enough, Gold Medal winners can also apply for the National Study Award. Students who make it through the competition can take a trip to Germany – a $4000 dollar prize. Furthermore, according to Ms. Hendrickson, bi-lingual students earn a multitude of benefits. Free college in Germany, better chances at applications to both jobs and colleges, and a $125K increase in lifetime earnings are all benefits to learning German. Clearly, the preparedness of Chatfield students is a cut above the competition in this process already.
Ms. Hendrickson has some advice for students of all kinds: "Deutsch ist wunderbar!"