C.I.A. Mission Gone Wrong – F.B.I. Agent Vanished – Twenty Five Million Dollar Reward
"Mr. Levinson was last seen alive in a 2010 hostage video pleading for help and in photographs wearing a Guantánamo-style orange jumpsuit. Neither the video nor the images disclosed the identities of his captors. The video had a Pashtun wedding song popular in Afghanistan playing in the background, but F.B.I. investigators concluded that it was so artfully staged that it was probably made by a state-sponsored intelligence group."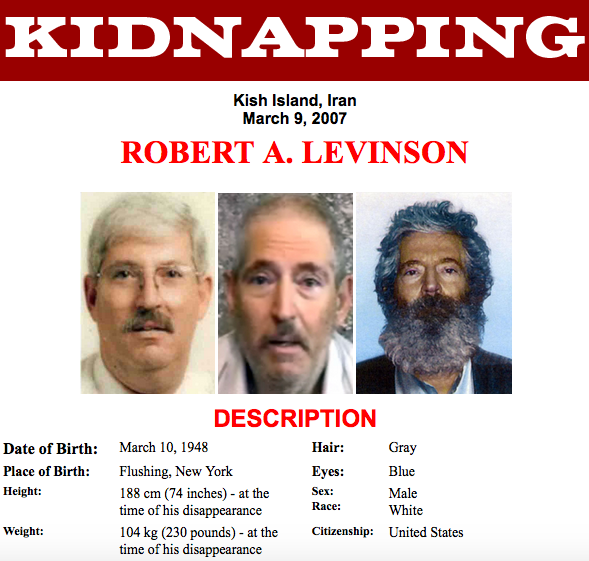 *WATCH VIDEO AT YOUR OWN DISCRETION*
Introduction
Missing for thirteen years and six days, Robert Alan Levinson met his unpredictable death after disappearing in Iran on March 9, 2007. 
Business Trip Deception
Levinson was born on March 10, 1948. After several years of working for a Drug Enforcement Administration, he was employed by the Federal Bureau of Investigation as an agent. However, due to some level of secrecy, we do not know when he was employed. The F.B.I. did release, however, while under some scrutiny by his family that he was on a mission for the Central Intelligence Agency in Kish Island, Iran. Covering their tracks the F.B.I. released this statement, "Information is being sought regarding a United States citizen Robert A. Levinson, a retired F.B.I. Special Agent, who went missing during a business trip to Kish Island, Iran, on March 9, 2007. Levinson retired from the F.B.I. in 1998 and worked as a private investigator following his retirement. Levinson traveled to Kish Island, Iran, on March 8, 2007, working on behalf of several large corporations, and his whereabouts, well-being and the circumstances surrounding his disappearance have been unknown since that time."
Level of Secrecy
Along with the job, F.B.I. agents require a certain level of secrecy. Robert Levinson never told his wife or children that he was ever employed by the Federal Bureau of Investigation. Christine Levinson was told that her husband was planning a trip with their oldest son, dan. Levinson had a high-security clearance that came with his job. That meant keeping his family in the dark for their safety. Late-night business trips were the norm, Christine never suspected anything. Think of her reaction when she found out. She demanded information.
150$ Million Lawsuit
Christine Levinson, along with her seven children, demanded over 150$ Million dollars in a lawsuit against both the C.I.A. and the F.B.I. The C.I.A. had to take action, "After an internal investigation, the C.I.A. disciplined 10 employees, including the three veteran analysts who were forced to leave the agency. The C.I.A. eventually paid Mr. Levinson's family a $2.5 million annuity and an additional $120,000, the cost of renewing Mr. Levinson's contract. Both sides wanted to avoid a lawsuit that would publicly reveal details of the arrangement." (Goldman, 2020).
Iranian Authorities Deny Claims
The F.B.I. took the initiative and worked with officials under Putin to find Robert Levinson. A reward for Levinson started at one million and eventually grew to over twenty-five million dollars. The F.B.I. was desperate to find a conclusion to this manhunt, "Iranian authorities quickly rejected the notion that they had Levinson in their custody or any knowledge of his whereabouts. It would appear, though, that the U.N. report nudged the U.S. intelligence agencies to address the long-standing mystery with renewed urgency." (Rezaian, 2020).
Pleading for HELP
Iran later went as far as releasing a video of Robert Levinson in their custody. This video shows officials making Levinson shame the United States of America and plead for both his life and help. Levinson concludes by telling his family that he loves them. "Last year, Iran acknowledged for the first time that it had an open court case involving Mr. Levinson. In a filing to the United Nations, Iran said the case was "ongoing" before its Revolutionary Court, without elaborating." (Goldman, 2020).
*WATCH THE FULL VIDEO ONLINE*
Sources:
https://www.washingtonpost.com/national-security/robert-levinson-a-retired-fbi-agent-who-vanished-in-2007-died-in-iranian-custody-his-family-says/2020/03/25/f68d4d84-6ee5-11ea-b148-e4ce3fbd85b5_story.html
https://www.wearethemighty.com/news/fbi-vows-find-robert-levinson
https://www.fbi.gov/news/stories/reward-for-missing-retired-fbi-agent-robert-levinson-2
https://sofrep.com/news/robert-levinson-former-fbi-agent-and-cia-asset-dies-in-captivity-in-iran/