Surviving the Coronavirus
Disclaimer: This story is all true, nothing is made up and William (Billy) Ross has agreed to share his story.
Billy Ross who is in his 30's has agreed to share his story of the COVID-19 because it may be useful to other people out there and give hope.
The 16th of March was no happy day for Billy as a dry cough had started to appear. At first, that's all it was, just a cough but by the next day "my symptoms quickly progressed"  and by morning he was bedridden with an uncontrollable fever. He assumed that at this point this was no cold and was the COVID-19 virus instead but with isolation and fighting it at home he thought it would be fine. As the days went on he was feeling progressively worse as were his symptoms. As he laid in bed day after day his fever worsened causing him to sweat through clothes and his bedding. He had no energy and couldn't make it to even his bathroom because he was so winded. His cough worsened and soon he started coughing up blood and he knew it was time to go into the hospital.
After getting admitted to SkyRidge Medical Center he was there for a total of 10 days. "The medical staff on the COVID floor and the ICU had to take extreme caution. Before entering any patient's room, they'd need to put on a complete set of protective gear." He knew that this COVID-19 was no joke. When he first got to the hospital he was put on oxygen but his condition kept getting worse. They couldn't up the dosage of oxygen anymore and they brought him to the Intensive Care Unit, Putting him under with a medically induced coma (this is a fragmented sentence). They put him on the ventilator which would help his lungs to get air better and faster as the machine acts as lungs. For 3 days he was under and soon his breathing became healthier and he was brought out of his coma. As a side effect of all the drugs and his condition he was unable to eat solid foods and ended up losing over twenty pounds in the course of his illness.
Although he was under for 3 days he did have some comments on his stay at SkyRidge. This was his first hospital stay and it was nerve-racking staying at the hospital overnight he was a little nervous however the staff  "were a delight". For him it was more than just how they acted though, he could sense and see the fear in their eyes and for him it was heartbreaking. "They are all true heroes, and I hope that the medical professionals fighting this pandemic get the respect they deserve."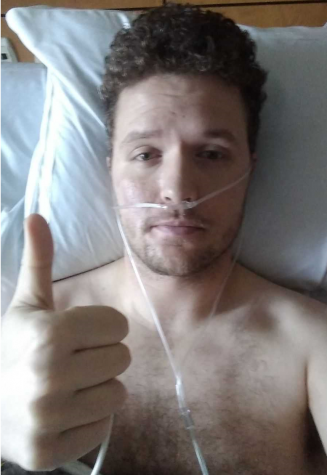 As of April 23rd, he is alive, healthy, and even back at his job which he is able to do from home as a senior software engineer. Though this is Billy's story he does have some advice for the young and old as they read his story. "I'd advise younger readers to exercise caution and to seek help if they feel something is not right. Most of the coverage of COVID-19 advises that the elderly and immuno-compromised are at risk. As a young healthy male with no pre-existing conditions, I can assure you that COVID-19 is not discriminatory. Follow the advice of health experts, and be sure to practice good hygiene. It is not worth it to risk the health of you and your loved ones to break quarantine. This will all be over soon enough!"